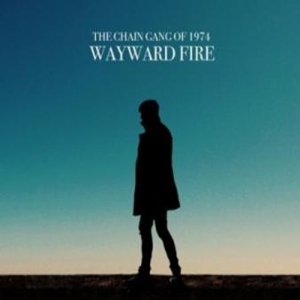 Song: Undercover
Artist: The Chain Gang of 1974
Album: Wayward Fire
Back in November
I highlighted
a Colorado-based "band" The Chain Gang of 1974, which is mainly comprised of singer/multi-instrumentalist Kamtin Mohager and their self-released first album proper "White Guts." Well it seems that Mohager has been picked up by a label, Modern Art, and has re-jiggered "White Guts" with some new tracks, lost a couple, saved the good ones, and re-named it "Wayward Fire."
It's funny, because I was just re-listening to "Guts" and thinking how it had a bunch of great tracks on it, with a couple, like "Stop," "Hold On," "Matter of Time," and "Don't Walk Away" that really deserved a bigger audience. It seems that "Wayward Fire" may be the push.
I heard a little of Beck, Simple Kid, and LCD Soundsystem in The Chain Gang of 1974 initially, but there is also a HUGE 80's influence in the music, from Tears for Fears to Echo and the Bunnyman. The new tracks really up those influences as well. New track and first single "Undercover" grooves with a new wave meets Sisters of Mercy industrial crunch. It's a touch dark but also very pop and immediate. I also really like new track "Taste of Heaven" as well... very very good.
All-in-all only five tracks made it from "White Guts" and they are by far the best. The new additions give the album a more cohesive feel, and sway his sound away from his more experimental tendencies. But the album closes, once again, with the lost 80's gem that never way, "Don't Walk Away," a song that seems to be begging to be taken back in time to heighten an emotional scene in a John Hughes movie. It's just so fantastic.
I went back to check out the tracks left off, and honestly... despite being more experimental and less immediate, there are still some great tracks off "White Guts" as well. I miss the messy-yet-propulsive "F'n Head," and the kicking "Visually Appealing." Oh well, they still exist... and if you flip for "Wayward Fire" they would make nice companion b-sides to expand the albums length. Dig.
Just when I was thinking it might be time to re-visit the band and really put on the heavy recommendation, here they come with the album all shinny and new. Perfect. I was going back and forth as "Don't Walk Away" is honestly an unsung classic in the wings, but it's a bit slow... and new single "Undercover" is pretty great. I'm going with the new single... but PLEASE take a listen to "Don't Walk Away" below... it's so amazing. You can also listen to a couple other tracks on my pos from last November linked at the top of the post. This is a great album... get it!!!
Enjoy.
Undercover
Hold On
Don't Walk Away