Song: You Are My Destiny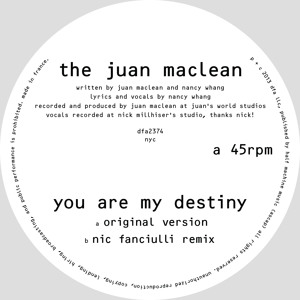 Artist: The Juan Maclean
Album: You Are My Destiny
I love The Juan Maclean. So it's no surprise that I love newly surfaced track "You Are My Destiny." It does remind me of arguably his crowning achievement, "
Happy House
," which... given the
crowning achievement
situation, isn't such a bad thing.
I'm not finding anything about this as a single on his website, or if a new record is imminent. I hope so, I liked Everybody Get Close okay... but he's due for a
proper
album.
Oh, also... since I missed this, you should also check out "Can't Let Go" from his side project Peach Melba. Apparently it was considered "too house" for the proper moniker. I get it, and still dig it. (listen below)
But anyhow... the more I listen to "You Are My Destiny" the more I love it. Vocals once again by Nancy Whang, who writes the lyrics as well. Another killer collab, after the equally amazing "
Feel So Good
."
Winner winner. I'm in a dance mood y'all, look out.
Enjoy.
You Are My Destiny
Can't Let Go - Peach Melba
Feel So Good