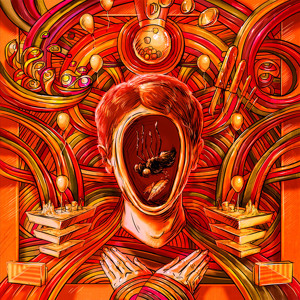 Song: A New Low! It Sucks Itself!
Artist: Ape School
Album: Junior Violence
I've been digging this sophomore album by Philadelphia-based singer-songwriter Michael Johnson, AKA Ape School.
I've found very little in the way of info on the band/man aside from this achingly hipster write up on his
record label's site
. Ugh.
Pay no mind. "Junior Violence" is a rather fun, toungue-in-cheek psychedelic pop record that incorporated electronic sounds with an aural gazpacho-ish mix of freak-out and melody. I read someone say it sounds like a bridge between the two MGMT albums, which I sort of agree with. But... you sort of just have to hear it.
Best to just start with the first track, "A New Low! It Sucks Itself!," which in title alone is... something. That's followed by "Marijuana's on the Phone," so you know where this is all going. Indie-pop with a kick of subversive humor. There you go.
You can stream the entire record
here
.
Enjoy.
A New Low! It Sucks Itself! (live)
Marijuana's on the Phone (live)
Weak in the Teeth