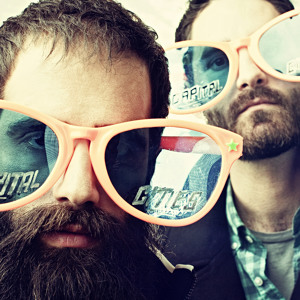 Song: Safe and Sound
Artist: Capital Cities
Album: Capital Cities EP
I've been pretty obsessed with this new track, "Safe and Sound" by Capital Cities, and L.A.-based duo comprised of Ryan Merchant and Sebu Simonian, who formed in 2008 after a meeting via Craigslist.
They've only released two singles, a five-track self-titled EP, as well as a single for "Safe and Sound" which includes a couple remixes and a b-side. You can all of them
here
. They also have a
Tumblr
, because they're just
that
hip.
No info yet when a debut album is coming, though from the sounds of the EP, this handsome, bearded duo is a band to watch.
Oh... they also do a killer cover of "
Holiday
." Nice!
Enjoy.
Safe and Sound
I Sold My Bed, But Not My Stereo
One Minute More