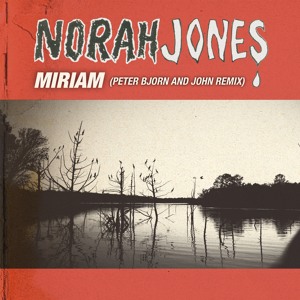 Song: Miriam (Peter Bjorn and John Remix)
Artist: Norah Jones
Album: Miriam Single
I had surprised myself in how much I enjoyed Norah Jones last record, '09's "The Fall," as I'd never gotten into her much in the past. A little too boring. And yet, "The Fall" wasn't much of a departure from her early material... it just really grabbed me. Gorgeous.
The follow-up, "Little Broken Hearts," produced by Danger Mouse was anything but boring, it was a bit of a departure for Jones both sonically and lyrically. I loved loved loved first single "
Happy Pills
," but must admit the album left me semi-cold, it's broken-hearted bitterness leaving a not so nice taste in my mouth.
I'll admit it might not just have been the album for me at the time... maybe in the future it will all click in. There were amazing moments that joined "Pills" for sure, the slinky-boozy "Say Goodbye," where she sounds as gorgeous as she does sad, and the Raveonettes-meets-Neko Case "4 Broken Hearts."
There was a hint that she wanted to make a true psyh-out dark rockabilly record... maybe this was just Norah's spin. Well, Sweden's Peter, Bjorn, and John must have heard what I heard as they've remixed the super-odd-choice second single "Miriam," which is one of the creepiest girl gon' crazy tracks I've ever heard. The album's muted, Twin Peaks-esque stalker ballad vibe is very un-Norah, but PB&J take in a more rollicking, dirty Roadhouse groove-fest. It's quite fitting, and rather sexy.
Enjoy.
Miriam (Peter, Bjorn, & John Remix)
Say Goodbye
4 Broken Hearts