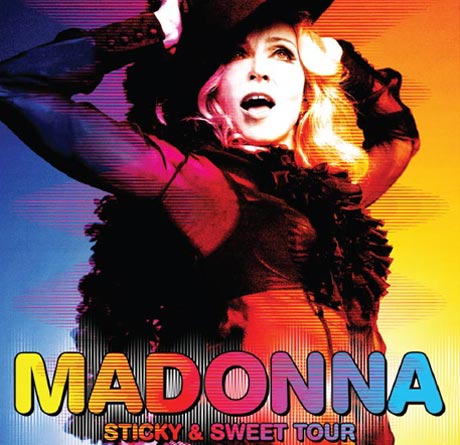 Song: Into the Groove (S & S Version)
Artist: Madonna
Album: Hard Candy/Sticky & Sweet Tour
Last night was one of those I (heart) life, I (heart) New York evenings. At 6:30 PM I sat down to a lovely dinner that the BF made only to be called just shy of 7 PM by my good friend Nick. "Hey what's going on?" he asked… I probably replied "not much" though I should have said "chili." "Interested in a free ticket to see Madonna tonight?" he says calmly to me. "Uhh… YEAH!" Just shy of two hours later I was sitting in a great seat about to see the most famous person in the world's latest live concoction. Unbelievable!
This was now the second time I have seen the Material Girl, the first being the Confessions tour of 2006. I think I liked that show a touch better, though I LOVED that album and simply like "Hard Candy," her latest hip-hop flavored record. And like the "Confessions" tour, she stuck mostly to the new album, performing all but two tracks, with a mix from her previous records.
The show was very impressive visually (where "Confessions" was more impressive dance-wise) with moving video screens that splashed colorful animation, gritty film for each song, and even Britney. Yes, Britney. Though I'm not a huge fan of the song, the performance of "Devil Wouldn't Recognize You" was visually amazing. Madonna performed the song wrapped in a black sheet on top of a black piano while a see-through video curtain surrounded her, with images of rain and splashing water whirled around. It honestly was one of the most impressive visual things I've ever seen.
Part of the fun of the show was also hearing old songs re-worked for the tour. My favorite being "Into the Groove's" 80's style hip-hop remix that was both fun and so fitting to see in NYC with all the dancers, and Madge herself, in New York 80's street attire. "Vogue" got a "4 Minutes" mash-up treatment, and "Like a Prayer" got a full on gay club high drama boost. I didn't much care for the guitar based re-work of "Hung Up" though.
Take a listen to the studio version of the tour "remix" of "Into the Groove." I think it's just a backing vocal track because it doesn't sound mixed quite right… but this is what you heard while she performed the track.
Enjoy!
And thanks again Nick!!!