Song: Can't Believe a Single Word
Artist: VHS or Beta
Album: Bring on the Comets
Here was a killer surprise, thanks to a random blog I learned that one of my favorite new bands from the past couple years have a new album coming out at the end of this month.
VHS or Beta
will release their third full length album "Bring on the Comets" on August 28th. I've gotten to listen to the record for two days now and it seems to be the record they have been building up to since their inception. Their debut, "Le Funk" was an instrumental Daft Punk homage, and for their sophomore record, "Night on Fire" they added Cure-like 80's disco rock and vocals on about half the tracks. This is where I fell in love. They opened for the Scissor Sisters in New York one time when I saw them and I have been a fan since. "Bring on the Comets" might be their defining moment, ditching the instrumentals (aside from the minute-long first track) and writing some killer dance rock that, fingers crossed, will garner the exposure this band deserves.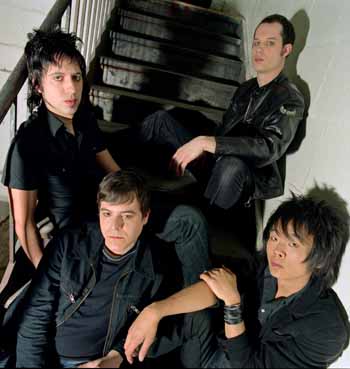 I am still absorbing the record but have found a couple of off-the-bat treasures that remind me of their best work on "Night on Fire." This record isn't a new direction; it's a focusing of their sound. I wanted to pick a song that really grabbed me and immediately it was "Can't Believe a Single Word." Lo and behold, it's the first single! (I should really work in A & R I tell ya.) The song is their trademark guitar-based dance rock. The drums and beats are just as important as the riffs and I guarantee that after a listen or three you will be bopping along if not singing along. It's not as anthemic as the title track from "Night on Fire" but it's a great song.
So excited to hear some new VHS or Beta, welcome back boys!
Enjoy.
No videos yet from the new record, but check out some from "Night on Fire" an album you SHOULD own.
Night on Fire:
You Got Me: