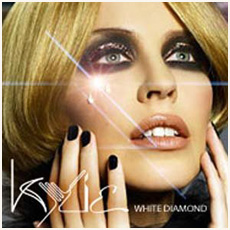 Song: Fall for You
Artist: Kylie Minogue
Album: White Diamond?
Recently, new tracks from
Kylie Minogue's
eagerly awaited 10th studio album, the follow up to 2003's "Body Language," were leaked to the Internet. Many have suspected that this is a marketing ploy to build early buzz for the album, which the label said was ridiculous. Regardless if they were stolen, leaked on purpose, or done in error… we have new Kylie to talk about people!
While not confirmed yet, the album is rumored to be titled "White Diamond" (I can't believe this) or Kylie X (for her 10th album, which I also can't really believe.) She is working once again with the Scissor Sisters and electro newcomer Calvin Harris, as well as Groove Armada and Boy George. It has also been said that she has done a LOT of songs with a LOT of people all in the hopes to make a huge comeback after her bout with cancer. (Though, after a successful greatest hits double disc, and the recent news that home girl made 4.5 million quid last year despite being sick, I'm not sure what she has to comeback from.) She hopes to have her first single blow "Can't get You Out of My Head" out of the water… not a small task as that still remains her biggest world-wide hit to date.
Of the five songs that I heard, I am pretty certain that they are not completely mixed and possibly demos. None of them sound very Scissor Sister or Groove Armada-like to me, and none have the immediate pop charms of "Can't Get You" but after all, this is Kylie… and I sort of worship everything she does. "Fall For You" has some crazy noises peppered throughout and is so high energy it dares you not to bop along. "In My Arms" is also a favorite, could be the Calvin Harris track with it's 80's-esque electro vibe, and fits right in with Kylie's recent sex-kitten yet innocent thing she's been working for her past three records. The others are more current sounding electro-pop, not totally mind blowing, but very enjoyable.
Time will tell if these are final versions that will end up on the album, or if they are just teasers and not on the record at all. (THAT would be hot) We'll see.
Enjoy.
Here is a clip of her performing the song "White Diamond," also rumored for the new record:
A few great Kylie videos:
Slow
Come into My World
Love At First Sight