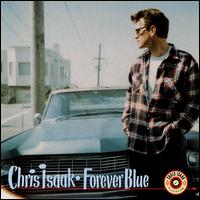 Song: I Believe
Artist: Chris Isaak
Album: Forever Blue
I, like most of the world, didn't get to know Chris Isaak until "Wicked Game," the single from his third album "Heart Shape World" became a smash, thanks to being highlighted in David Lynch's film "Wild At Heart." "Heart Shape World" was a great album, a mix of rockabilly and semi-country, and Chris was by gosh the cutest crooning singer we'd seen since Dean Martin. I haven't followed every release he's done, but by far my favorite is his 1995 album "Forever Blue." It was apparently written after the end of a long term relationship (even includes a letter to his former lady CD bed) and this event seemed to focus Chris toward writing an actual album. All subsequent records have had a bunch of solid songs but no theme that could be found running through the album.
"Forever Blue" starts with the bluesy, killer "Baby Did A Bad Bad Thing" which you may remember was heavily used in the trailer to Stanley Kubrick's last film, "Eyes Wide Shut." There are up-beat songs with heartbreaking lyrics; "Somebody's Crying," "Goin' Nowhere," and "There She Goes" as well as down-tempo ballads with heartbreaking lyrics; "Forever Blue," "Things Go Wrong." But for me, I can't wallow in sadness to long, and need a shot of happy, and/or hope. Thankfully, he (almost) ends the album on a high note with "I Believe," an upbeat, sunny, "everything-is-gonna-be-okay" jam. I love this song and it does, as I assume it was meant to, lift my spirits every time I hear it.
While not necessarily thematically connected, his follow up, the covers album "Baja Sessions" (with most of the "covers" his own tunes) is a great mood record with a mostly acoustic breezy tone. It's a perfect relaxing on the beach record, and contains a good mix of songs from his back catalog, and mostly album tracks. 1998's "Speak of the Devil" was a disappointment for me, as was, for the most part, 2002's "Always Got Tonight" which included the theme to Chris' short lived show on Showtime, "American Boy." A fun, kind of silly song, that none-the-less puts a smile on my face.
Last year saw the release of "Best of Chris Isaak" which may be the best starting point for a casual fan, but if you want the record that will get you through some tough times, with someone who's songs will get to the essence of heartbreak, get "Forever Blue," you won't be disappointed.
Enjoy.
The now iconic video for Wicked Game