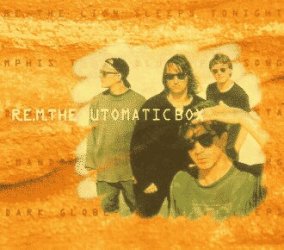 Song: First We Take Manhattan
Artist: R.E.M.
Album: The Automatic Box
Shortly after releasing what I consider their best album, "Automatic For The People," R.E.M. released "The Automatic Box," an 18 track (over four CD's) set of B-Sides, Covers, Live, and Instrumental tracks. These were recorded during the sessions for "Automatic" and while I don't quite understand why they were spread over four CD's (aside from packaging purposes) it's a fun collection for super fans.
"First We Take Manhattan" is an odd Leonard Cohen song that the band really has fun with. It sure sounds like the rest of "Automatic" though it is very rare when R.E.M. will have a cover on an official album. (I can only recall two instances: "Superman" from "Life's Rich Pageant" and "Strange" from "Document.") Other highlights include a cover of the Tokens' "Lion Sleeps Tonight," as well as one great B-Side, "Fretless" which ended up being on the "Until the End of the World" soundtrack. That's bassist Mike Mills singing the chorus, who last sang on "Out of Time's" "Near Wild Heaven."
Listening to old R.E.M. really makes me long for a return to form for them. I have been pretty disappointed with their last three albums, and while there have been hidden gems, their records just haven't been as consistently good since Bill Berry left the band. I do not know how much his exit effected the other members as songwriters, but there is definitely something missing.
This will kick off a week of highlighting different cover versions you may or may not know.
Enjoy.