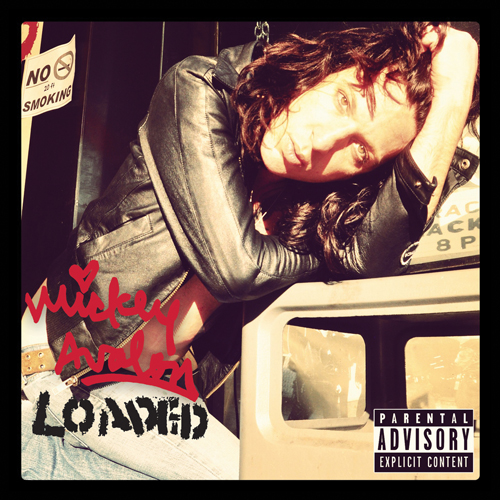 Song: On The...
Artist: Mickey Avalon
Album: Loaded
Getting his start on MySpace and being signed on Interscope/MySpace Records, I'd almost forgotten about (former?) Hustler/Junkie Mickey Avalon; Hollywood, CA sleaze-rapper who made a minor splash with his self-titled debut album from 2006. At the time, my friends and I flipped for his insane singles "
Jane Fonda
" and "
Mr. Right
," as well as the immediately side-splitting and shocking "
My Dick
," which was highlighted nicely in the film and on the soundtrack of "Harold & Kumar Escape from Guantanamo Bay."
There was enough of a delay from his follow up that I'd forgot all about him, which turned out to be due to years of back and forth with Interscope. In 2011 he was apparently released from his contract, signed to Suburban Noize Records, and released his long-awaited sophomore album "Loaded" on March 12th 2012. How did I miss this? Must be awful right?
NO.
Actually, I've spent two weeks rocking out to "Loaded" and while it may not contain anything as catchy as "Jane Fonda," or as instant as "My Dick" it's still got
a lot
of gold on it, and despite losing it's way toward the end and being a touch too long, it's actually
more consistant
than the debut. This is required listening... well, if this kind of thing is your thing.
And if your thing is rock-infused catchy hip-hop that's mostly about scoring and doing drugs, tales of hookers, and a general life on the edge, you are in luck. Things start with a Mickey Avalon manifesto of sorts... the rockin' groove-tastic "Rock Bottom," which really sums up everything you can expect from the man. Sample lyric; "Imma get high 'til I hit rock bottom."
It's filled with one catchy but not same-sounding gem after another, the lazy beat of "Girlfriend," the electro throb of "Dance," and the country-tinged NYC hustler/hooker anthem "Mickey's Girl." Then of course there are all the glorifying of substance songs, "Drugs," "Mr. Brownstone," and my album highlight; "On The... " great stuff.
Certainly not for everyone, but if you're tickled by any of this, you'll enjoy this album. I put together a playlist of both albums and a few one-off singles. You won't be disappointed:
Or just listen to the
new record here
.
Enjoy.
On The...
Rock Bottom
Mickey's Girl