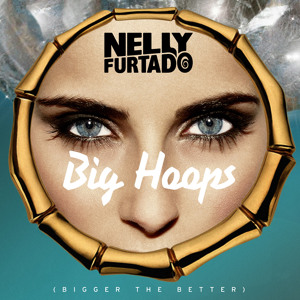 Song: Big Hoops (Bigger the Better)
Artist: Nelly Furtado
Album: The Spirit Indestructible
I've been a fan of Nelly Furtado since her debut, "Whoa Nelly" from 2000. Her subsequent English-language albums have included a mix of styles, and she hit true pay-dirt with 2006's "Loose," which took an urban direction and gave her a slew of hits including "Promiscuous Girl," and "Say it Right." She's since released a Spanish language album, but is set to return to pop with "The Spirit Indestructible," in June.
The first single from the new record is the Rodney Jerkins produced "Big Hoops (Bigger the Better,)" a deep-bass space-age hip hop track. I wasn't so sure about this one at first but it's really grown on me. She sounds a touch Rihanna on this, but has moments that are unmistakably Nelly. The hooks aren't immediate but creep up on you. I'm not sure about that breakdown... which uses a bit of drum and bass like it's 1997 again. Well, at least it's not Dubstep.
According to Furtado, the new record is most like her debut, so "Hoops" might be an urban misnomer. Yet she's working with the Neptunes, Timbaland, Ryan Tedder, and Tiesto. Guess we'll just have to wait until June.
Enjoy.
Big Hoops (Bigger the Better)
Girlfriend in the City
Night is Young