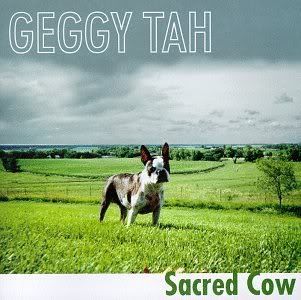 Song: Whoever You Are
Artist: Geggy Tah
Album: Sacred Cow
One of the more odd hit singles of the 90's, Geggy Tah's "Whoever You Are" is seemingly simply about… how great it is when someone lets you cut in front of them while driving. And then of course overwhelming need you feel to thank them, even if you don't know who they are. Pay it forward!
Geggy Tah started as a duo releasing their first album, 1994's "Grand Opening" on David Byrne's Luaka Bop label. A critical hit because it was so off-beat and mixed so many different styles, it wasn't until 96's "Sacred Cow" did they find some commercial success, solely it would seem, on the strength of "Whoever You Are." Unfortunately due to label trouble, the follow up didn't happen until 2001 and by that time the glitter had faded.
The song is infectious though, and off the top of my head I can't really think of another song structured around something so simple. Can you?
Enjoy. Though there is a slight chance you might think of this as the stupidest song you've ever heard.
Not sure if this is the official video, but it's funny none-the-less.