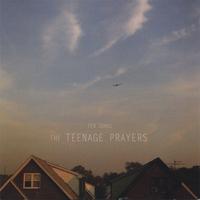 Song: She Ain't My Baby
Artist: The Teenage Prayers
Album: Ten Songs
The Teenage Prayers are a New York City based band that is currently unsigned. (Criminal!) A co-worker gave me their self-released debut album "Ten Songs" a couple months back and the more I listened, the more I couldn't get enough. They have a soulful southern vibe to them, sometimes sounding like the Rolling Stones, but more indie. Actually, after listening to the awful Taylor Hicks record (An American Idol winner that I liked) all I can think is that THIS record is the kind he should have put out. If the band doesn't get their deserved record deal with their sophomore set of tunes maybe they should shop them to him management… though they would most likely lose any spec of credibility they have… ah, indie rock.
"She Ain't My Baby" is a short, fun little tune that has an almost rockabilly/50's vibe. Check out their
official website
and
MySpace page
for concert dates, I hear they are amazing live.
Enjoy.
Here is the band doing a Buck Owens song live:
Do a
YouTube search
for "Teenage Prayers" and see a bunch of home made video clips as a homage to classic movies.