Song: Are You Alright?
Artist: Lucinda Williams
Album: West
Lucinda Williams is a national treasure.
One of the most important figures in contemporary folk/country singer-songwriters, Williams has released just eight records in her twenty-eight year career. This month saw the release of her eighth, "West." Lucinda had been known for not being very prolific and at worst, a neurotic control freak perfectionist. This reputation began to take hold when she took six years to follow up 1992's "Sweet Old World," re-recording the entire album and mixing and remixing each track until it was "right." That album would be "Car Wheel's On A Gravel Road" which was released in 1998 on Lost Highway. "Wheels" can only be described as a true masterpiece, a perfect album in every way. The wait proved to be worth it as it was hailed as the top album by many critics and won a Grammy for Best Contemporary Folk Album, and her first to go gold. It was the first record I had gotten of Lucinda's and I immediately fell in love.
I had missed the boat at first with "Wheels," not hearing the record until 2001, just in time for her sooner-than-expected follow up, "
Essence
." While much more downbeat, I still flipped for "Essence" and its sexy southern-gothic charm. Because I couldn't get enough, I went back and obtained her dynamic self titled album from 1988 and "Sweet Old World." Like "Car Wheels," "Lucinda Williams" sounded like a perfect record, and way too interesting than most pop-country of the time. (Though Mary Chapin Carpenter scored a huge hit with a cover of Lucinda's "Passionate Kisses" taken from the self-titled album.) "Sweet Old Word" has many a great song, but is weary and a little too sad for my taste. (Though no Lucinda fan should really be without it, especially for "I Just Want to See You So Bad.")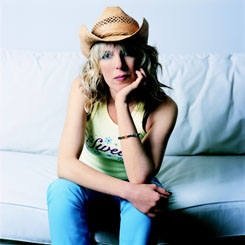 Just two years after "Essence," Williams returned with another album, 2003's "
World Without Tears
." The songs are amazing, and I am very fond of the record… though for the first time the album didn't feel like a whole work, a bit all over the place bouncing from up tempo rockers to slow ballads, with some blues-like "rapping" on a few tracks. I am feeling the same about "West" from my first few listens, though am still taking my time with it. "Are You Alright?" opens the album, immediately reminding me of "Essence" opener "Lonely Girls." It has a slow, almost hypnotic build, with a repeated phrase that slowly gets under your skin. I think it's an odd choice for first single, but like most of Lucinda's work, (and arguably Williams herself) it defies pigeonholing.
If you are starting out with Lucinda I think it's best to begin with "Car Wheels" which was just recently
re-issued
, the self titled album is not far behind in greatness… I highly recommend that one as well.
Enjoy.