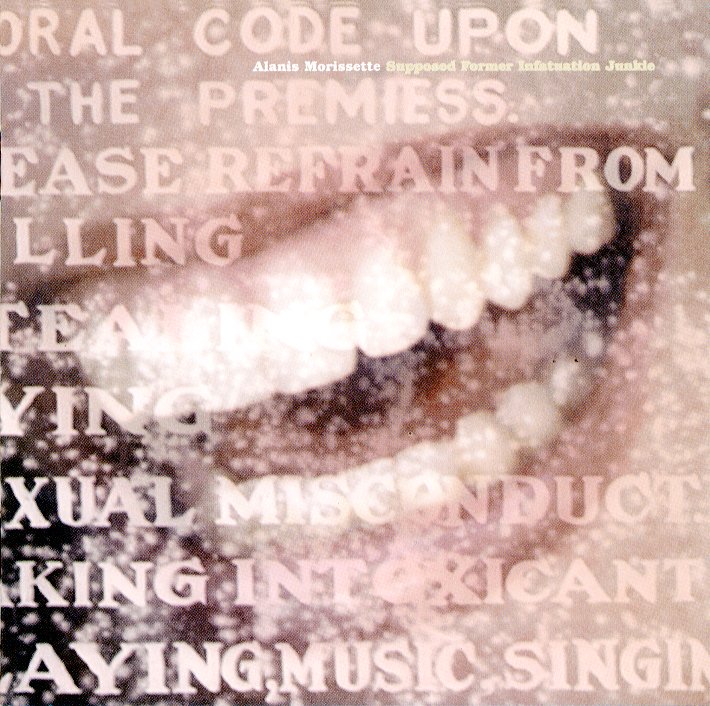 Song: That I Would Be Good
Artist: Alanis Morissette
Album: Supposed Former Infatuation Junkie
While The Scissor Sisters and The Killers have beaten the sophomore slump artistically, sales are another matter, and mean more it seems to the media than actual quality. Two acts, Alanis Morissette and Hootie And The Blowfish came out with their debut albums around the same time, has massive success, and then a massive crash & burn.
Looking back it seems darn near impossible that Hootie sold 10.1 million copies of their debut, "Cracked Rear View," an absolutely amazing amount of records to sell. Their follow up, "Fairweather Johnson" did remarkably worse, selling just over 2.3 million copies. To be fair, as record sales are hurting right now, many albums with that figure would have been considered a hit, but not then. In Hootie's case, I think they didn't have much more to say, cranked out another disc of the same-sounding stuff and people just weren't up for a second helping. They have since watched their sales drop to nothing with subsequent and the lead singer starred in a Burger King commercial. Ouch.
Like most enormous hit debut albums, nobody saw Alanis Morissette's "Jagged Little Pill" coming. That monster sold 14.5 million copies and scored several hit songs. She was labeled as the voice of a new generation, garnered a huge fan-base, and after an extensive world tour, the public wanted more. To her credit, the single "Uninvited," despite not having the catchy hooks (or melody at all) of "Pill" was a huge success and helped the "City of Angels" soundtrack become a hit.
Possibly because she felt like she could do no wrong, or really felt the pressure of following up a 14.5 million selling album, the official follow up, "Supposed Former Infatuation Junkie" was a colossal mess. The first single, "Thank U" failed to have much spark, and neither did subsequent attempts at a hit. The album was overlong, oddly sequenced, but mostly was missing the killer hooks and angst that fueled her debut. Despite this, I will take "Junkie" over "Pill" any day. It is way more interesting lyrically, not the lashing out "You Oughta Know" bitterness of the first record. (And yes I am one of those people that constantly bring up that fact that everything she lists in "Ironic" isn't really ironic… they just sort of suck. But maybe she was trying to be ironic herself. Ugh… way to meta.)
I think the problem, even though the song is catchy, is that "Thank U" seems to be partly about her overcoming the pressure of being a star. People don't really relate to "Wow I totally had to go to India to have a spiritual awakening to follow up my gazillion selling record" as much as "you cheated on me, I'm pissed, and now I am going to hurt you." But even though it's scattered, there is beauty on "Junkie" such as "And I Would Be Good," a beautiful simple self-realization song which uses the straight forward "this is what I'm feeling" style of songwriting she used on "Pill" yet with a deeper sense of self and maturity.
Since "Junkie," Alanis released what I think is her finest album, "Under Rug Swept" which was super catchy, smart, and best of all… only had eleven songs. That album barely sold a million copies and her latest, "So Called Chaos" did less than half of that. Is this do to a fickle public? Or did she just never quite get over that sophomore slump?
Alas, enjoy this diamond in the rough.